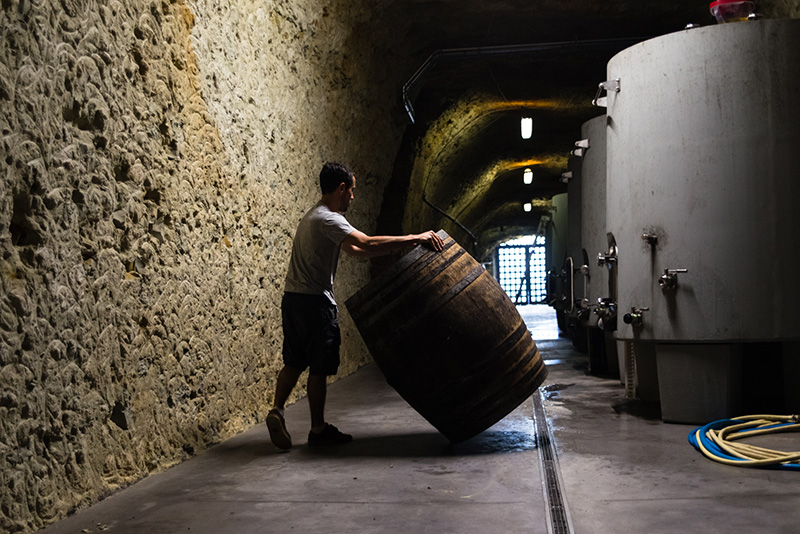 Visit our Clos
How to meet and to contact us
[texte à changer ] We will tell you everything, no secrets, and we will make sure your visit is full of surprises. Come and meet members of our team : Vincent, Jonathan, Emilie and other members.
With them you will discover the vineyard, the cellars/caves, the winery and all of our Estate.
During your visit you will enjoy the anecdotes of the Clos, and we will describe you our daily work. And of course, appreciate our wines during a tasting together.
"Lower your elbow without raise the foot!"
Services and rates
Free visit

At your own pace and freely, take your time to visit the vineyard and cellars, to take a walk and enjoy amazing landscapes. All the team is here to exchange and accompany you in the discovery of our wines. "Le Clos" remains wide open.

We suggest you 2 tasting options:
FREE OF CHARGE: 5 wines
WITH A FEE OF 10€ per person: Your own selection paired with a local cheese board.

Guided Tour

We are here to guide you during the discovery of the Clos. Strolling through the vines, the cellars, the winery, you will discover our know-how with the pedagogical approach. And you can also meet our fury friends! If you have questions about the world of wine, don't hesitate to ask us.

10€ per person
7€ for groups starting from 10 persons
Free for children until 16 yrs old

Old car collection

All through the seasons, the vintage vehicles are exhibited in front the wine shop and the cellars. Sometime, they roam in the surroundings for pleasure and maintains. It's also possible to visit the collection of vintage vehicles. This will be a good opportunity for you to explore this incredible historical collection look after by Jean-Claude through the years.

Only in addition to the guided tour
An extra 5€ per person

Tasting

With or without the guided tour, don't hesitate to come and see us at the wine shop, where you can taste our wines, indoor or outdoor. Feel free to contact us to help you organize your visit or your private event.

Price on demand
Opening hours
All year round
From Monday to Friday
9am – 12.30
14.00 – 18.30
Saturday and Bank/Public holidays
10.00 – 12.30
14.00 – 18.30
Close on Sundays
Locate us
11, route du Château, 41400 Angé (France)